Talking James Squirrel - Virtual Pet
18.0
Adopt a Cute Squirrel as your Virtual Pet
Do you love pets but can't adopt them? Are you allergic to pet dander? If yes, then you would find this virtual pet app the ideal solution to all your problems. Talking James Squirrel – Virtual Pet is a fun app in which you get the chance to adopt an adorable squirrel and watch its various antics. It will let you play with James and even talk to it. You can record a message and James is going to listen to it carefully before repeating it back to you in its funny voice. Aside from being an excellent mimic, James is a very enthusiastic singer and also a highly trained martial artist. You can see its singing talents by playing the piano and watch it break the screen with a single kick.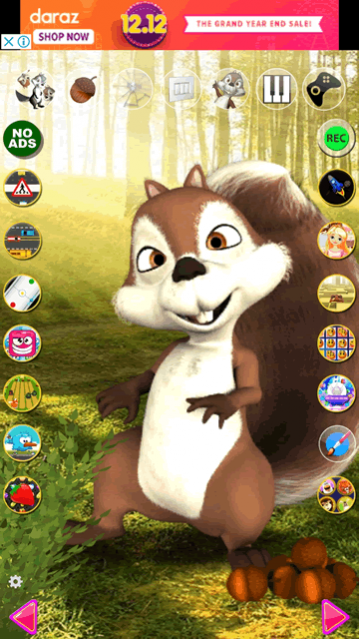 Talking James Squirrel – Virtual Pet has a user-friendly interface that makes it easy to interact with for one and all. It has a simple design and layout too with all the features available on the home screen. There are icons available for all the mini-games and actions that the virtual pet squirrel can perform on the edges of the screen. You just need to click them to initiate the action or play the mini-game you want. There is a 'recording' icon on the right-hand side of the screen that is for recording your voice. You will have to click it to begin recording your voice and then hear it back from James. To make sure that James listens to the entire message, you need to talk into the microphone of your Android device.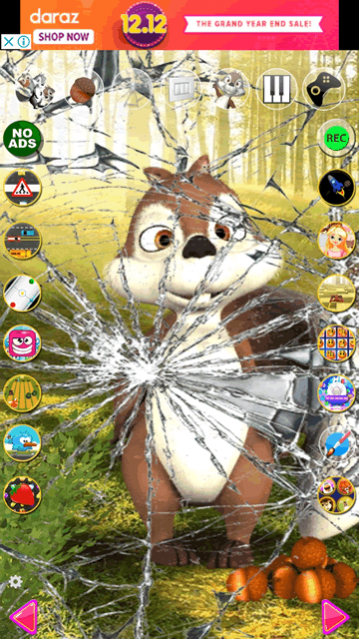 This virtual pet app allows you to play the piano and listen to James sing. You can access the piano by clicking its icon. As you hit the keys of the piano, James is going to begin singing. It might not have a very good voice but you are surely going to admire its enthusiasm. Moreover, James looks very cute when singing too. Aside from singing, James loves martial artists and karate. It can show you some karate kicks and break the screen if you click the right icon. Since James is a squirrel, its favorite food is acorns. You can feed them to James by clicking the acorns icon available on the screen. There is a light switch icon provided on the screen too that gives the signal to James to turn off the lights.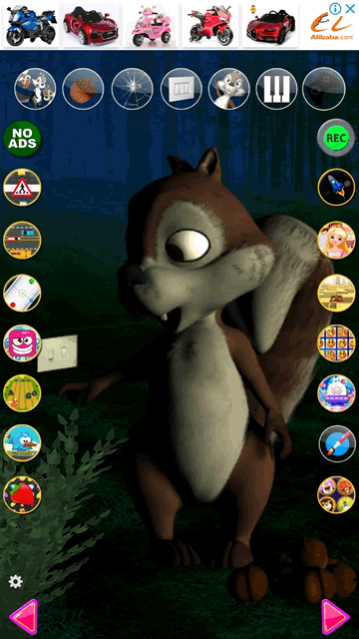 Talking James Squirrel – Virtual Pet lets you touch and tease James as well. You can see its hilarious reactions when you touch any part of its body. This virtual pet is not only a talented singer and martial artist but it is very playful as well. You will find a variety of mini-games to play in this app. The icons of these mini-games are located on either side of the screen. You need to just click the icon to begin playing the mini-game. Each mini-game is different and presents a different challenge to you. In some of the mini-games, your task is to race cars while in others it is form matches of two or more same items.
Features:
User-friendly interface
Simple design and layout
Lots of mini-games to play
Record your voice and hear James repeat it
Play the piano and listen to James sing
Touch James to see its reactions
Watch James doing acrobatics
Feed acorns to James
Conclusion:
Talking James Squirrel – Virtual Pet is an app that is aimed towards people who love squirrels and want to adopt one as a pet. It lets them have a naughty little squirrel, James, as their virtual pet and laugh out loud as it repeats your words in its hilarious voice. It is an amazing app to have on your phone if you can't adopt a pet for any reason.
---
Add a review
Tell us your experience with
Talking James Squirrel - Virtual Pet
18.0
RELATED PROGRAMS
Our Recommendations
---
---
---
---